EnduroPower© - for Odyssey7Q+ & Apollo now available!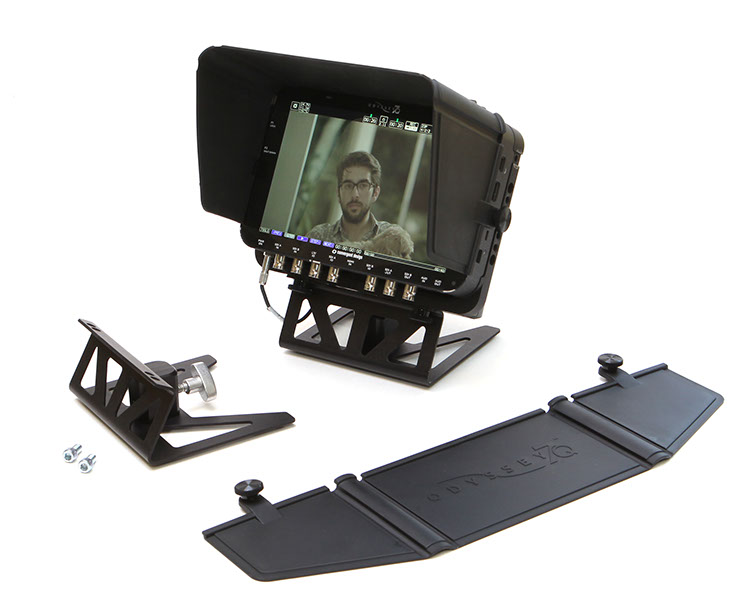 The EnduroPower line of accessories for the Odyssey7Q+ and Apollo are now available from your favorite reseller. Pictured above is the Odyssey7Q+ with the EnduroPower battery & grip plate. The grip plate adds over 35, 1/4-20 and 3/8-16, mounting holes for unlimited mounting options. In addition, there is an optional sun visor that reduces glare and gives addition screen protection. Finally, the EnduroPower has a new, optional, table stand which give the user the convenience of resting the Odyssey7 safely on a table or onto an industry standard "C"Stand.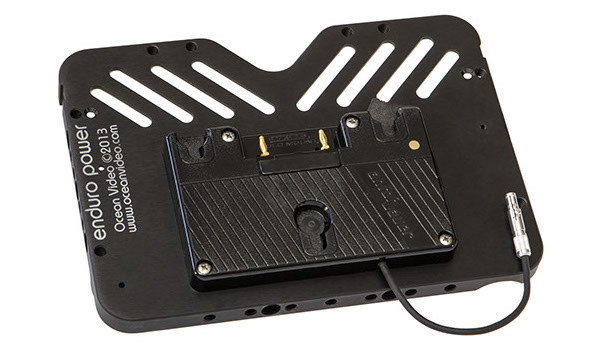 EnduroPower© - for Odyssey7Q+ & Apollo recorders
The EnduroPower is the perfect accessory for the exciting new Odyssey7 Monitor/Recorder:
• Portability - Compatible with professional battery power from Anton/Bauer Gold Mount or IDX V-Lock.
(ProSumer battery options coming soon for Sony, Canon, and Panasonic batteries)
• Durability - Made in the USA from a solid billet of 6061 aircraft grade aluminum, hard coat anodized for additional strength and durability,
• Power - 12 volt D-Tap power output can be used to power accessories or video cameras
• Protection - Extended lower edge provides protection for the Odyssey7's exposed BNC Connectors.
• Lightweight - Unique aluminum design adds just 10oz to the Odyssey7 package (12oz with AB battery adapter)
• Flexiblity - More than 35 threaded direct attachment points (1/4-20 and 3/8-16") for mounting accessories such as a NOGA© arm or wireless video receiver.
• Interchangeable - Compatibility with virtually all camera grip equipment including: ElementTechnica, Shape, Zacuto, Wooden Camera, RedRock Micro, Solid Camera and many more.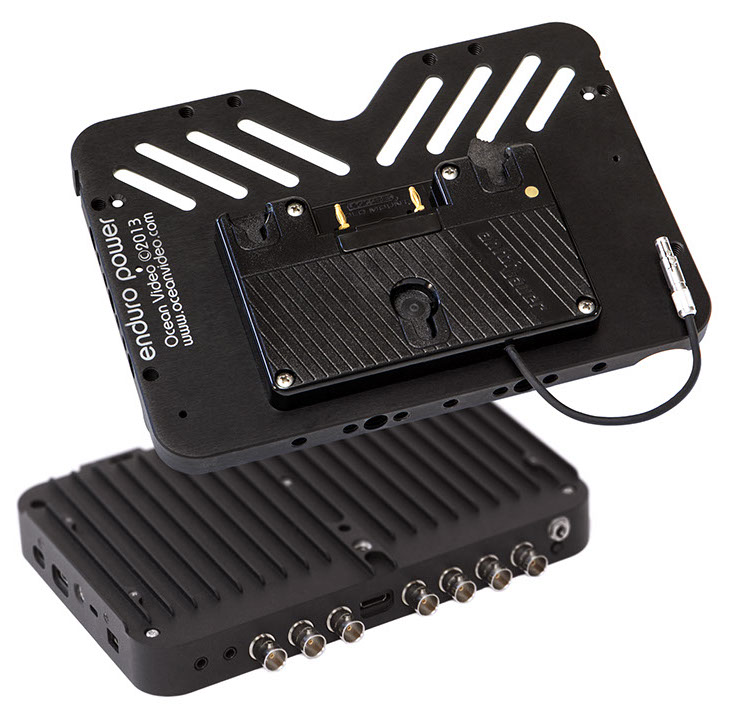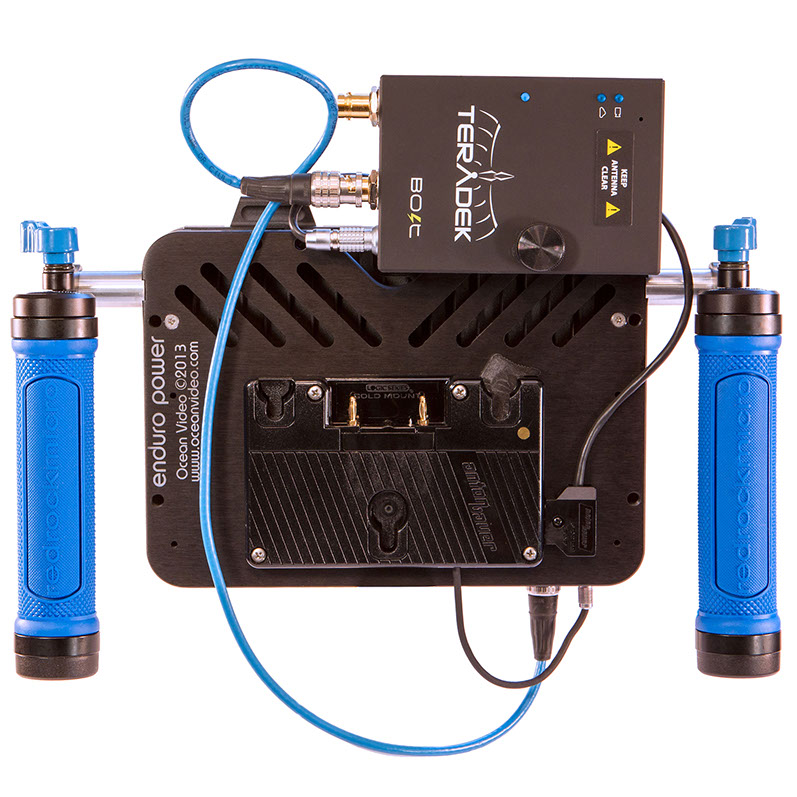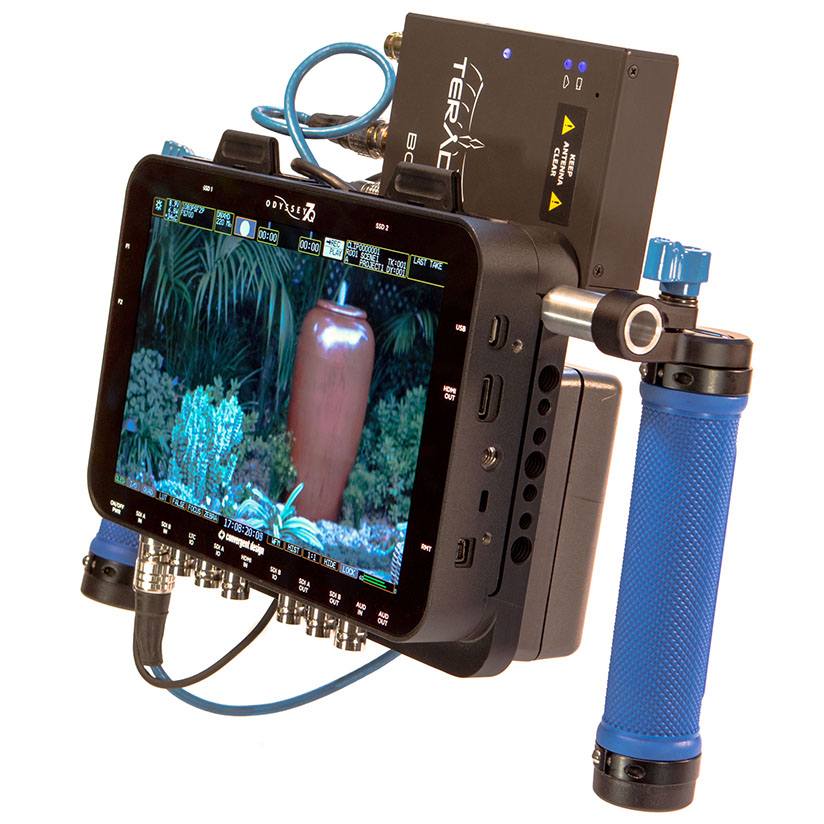 The ultimate Odyssey, this Odyssey is accessorized with the Enduro Power baseplate, custom Anton/Bauer battery adapter, a Teradek BOLT PRO wireless HD video receiver, and two adjustable comfort handles from RedRock Micro. A directors dream!
EnduroPower with table stand, Teradek BOLT 2000 wireless receiver, 15mm handle post RedRock Micro handle and AntonBauer power solution. (IDX V-Lock version also available).
Mounting Dual Bolt 2000's is possible. A custom power cable is available to power two Bolts from one P-Tap source.
The table stand also mounts directly to a "C" stand, baby pin.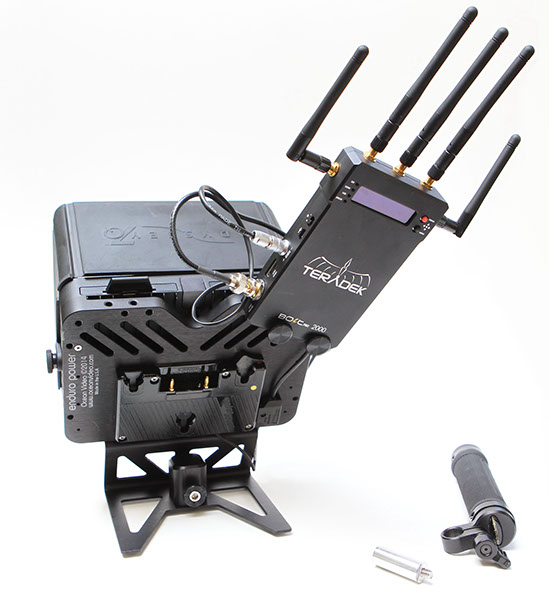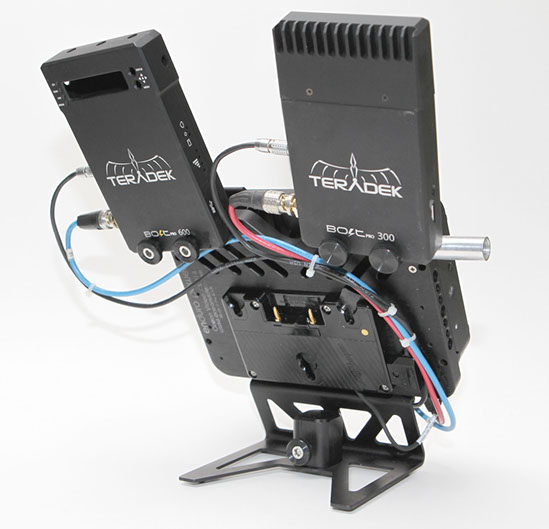 EnduroPower with table stand, dual Teradek BOLT 300 & 600 wireless receivers (samples), 15mm handle post and AntonBauer Power solution. IDX V-Lock version also available. The table stand also mounts directly to a "C" stand, baby pin.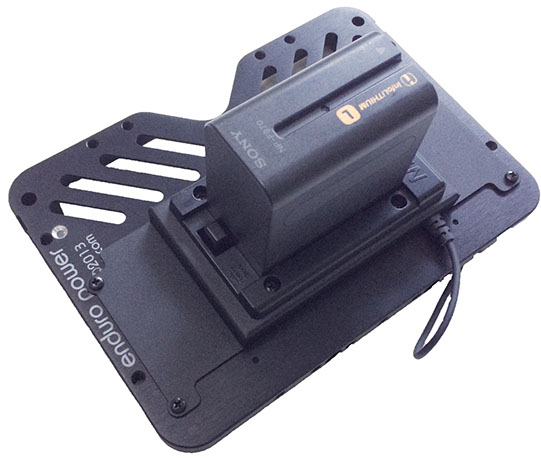 EnduroPower is compatible with ALL Convergent Design battery options including Sony, Panasonic, Canon and others.
Simply attach the CD battery adapter directly to the EnduroPower accessory plate with the screws provided.
Pictured:
Enduro Power with Sony "L" style battery adapter.
Link: https://convergent-design.com/accessories
This Sony F3 camera and Odyssey7Q monitor are powered by the same long-lasting battery solution!
The Odyssey7Q is a great upgrade to any camera system!
NOTE: All production EnduroPower for Odyssey7 brackets are BLACK color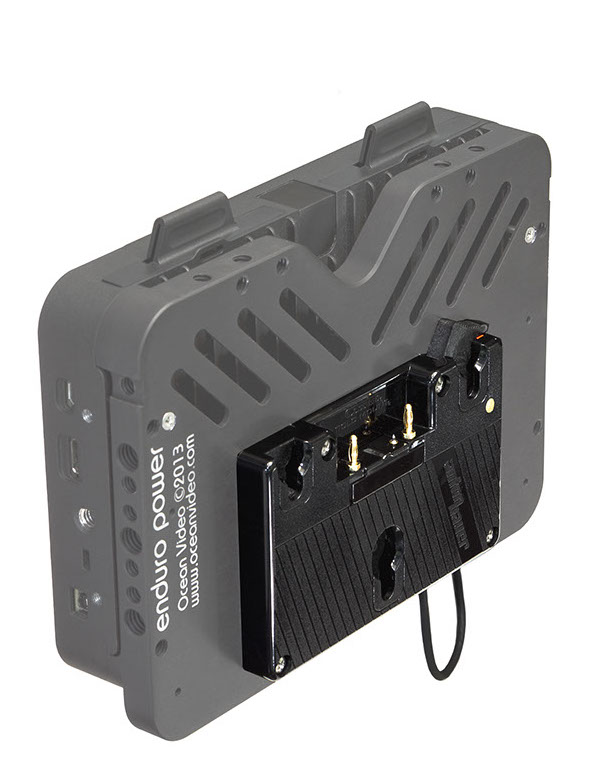 1. Place the EnduroPower bracket on the rear of the Odyssey7 . Secure the bracket with 1/4" flat head screw and tighten with Phillips #2 screwdriver.
Attach two 3mm flat head screws and secure with Phillips #1 screwdriver.
2. Position the battery plate over the threaded holes and secure with four 3mm pan head screws. (Note: the photo shows an AntonBauer battery adapter, the installation of the IDX battery adapter will be similar.) Align and insert the power cable into the power input on the Odyssey7 until it locks into place.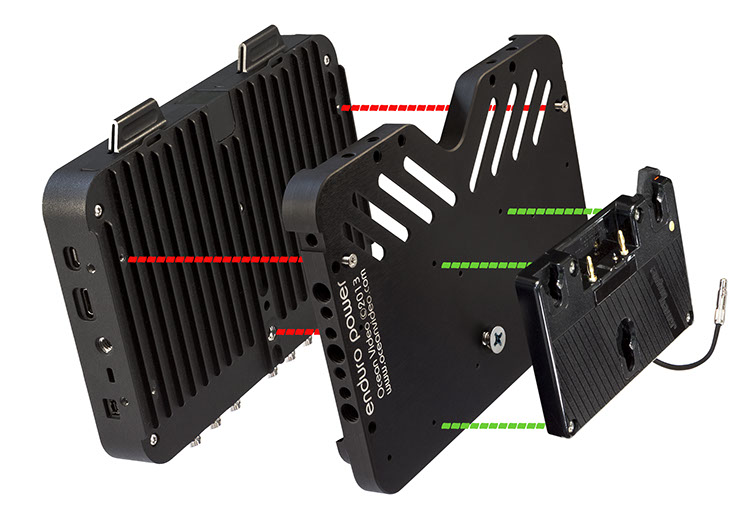 Email us at: info AT oceanvideo DOT com • Copyright 2016 - Ocean Video